Scalloped Corn Bread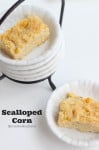 2 eggs
1 can cream style corn (1lb 4 oz)
1/8 teaspoon black pepper
2 teaspoons sugar
2 tablespoons melted butter
1 cup milk
2 cups crushed saltines (1 sleeve)
Beat eggs and then mix with remaining ingredients in a bowl.
Spread into a baking pan sprayed with a nonstick baking spray. [pan size 5x9" or 1 qt baking dish]
A double batch bakes nicely in a 9x13 pan.
Bake at 350 for 45 minutes. Double batch bakes for 55 minutes.
Cut into serving warm or at room temperature.