Black and White Cookie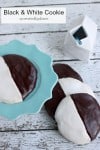 Serves:
makes 12, 5" cookies
1 cup butter (room temperature)
1 3/4 cup sugar
4 eggs
1 1/4 cups milk
2 teaspoons vanilla extract
2 1/2 cups cake flour
2 1/2 cups all-purpose flour
1 teaspoon baking powder
Beat butter with sugar until smooth and fluffy.
Mix in eggs one at a time.
Add in milk and vanilla and mix until completely blended.
Blend in flours and baking powder.
Pour 1/2 cup batter for each cookie onto parchment lined baking sheet and spread to 5 inch round with small offset spatula.
Bake for 15 minutes at 375 degrees.
Don't brown cookies.
Allow cookies to cool on baking sheet completely. They will not transfer easily, they are a cake like cookie.