Royal Icing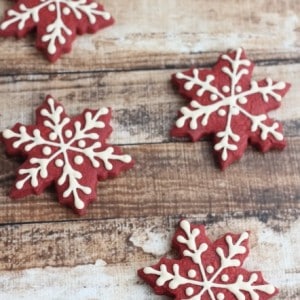 2 pounds powdered sugar (each pound of powdered sugar is about 4.5 cups of powdered sugar)
⅓ cup + 1 tablespoon meringue powder
¾ cup warm water
1-2 teaspoons vanilla extract
Mix powdered sugar and meringue powder on low for 1 minute until it's fully blended.
Add water and extract and mix on low until it's mixed well.
Then turn mixer on medium and beat until the icing is stiff 8-10 minutes.
Add water to thin to the consistency you need. (add drops at a time!)
You can store royal icing at room temperature or in the refrigerator for a few weeks.
Whip it if it becomes separated.
I added a few drops of Ivory Americolor Food Coloring. It gives the cookies an antique type of look.