Pecan Pie Cookies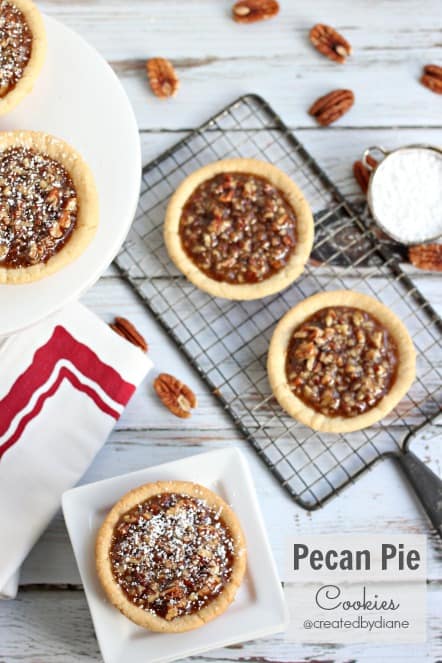 I package Pillsbury Sugar Cookie Dough
1 1/2 cups chopped pecans
3 tablespoons butter
1/2 cup brown sugar
1/3 cup corn syrup
1/4 teaspoon salt
1 teaspoon vanilla extract
1/2 teaspoon rum extract (optional)
1/4 cup powdered sugar for dusting (optional)
Preheat oven to 350 degrees F.
2. Prepare muffin top pan with baking spray.
3. Slice cookie dough in 1/2 inch slices.
4. Place one slice into each area of the pan.
Bake for 10 minutes or until the cookies are golden on the edges.
6. Place butter, sugar, corn syrup, salt in medium saucepan and bring to a boil, turn on medium heat and boil for 2 minutes.
7. Remove from heat, stir in pecans and vanilla.
Allow cookies to completely cool in pan before removing from pan.
9. Place 2 heaping tablespoons of pecan filling into each deep dish cookie.
Allow filling to cool and set up before serving.