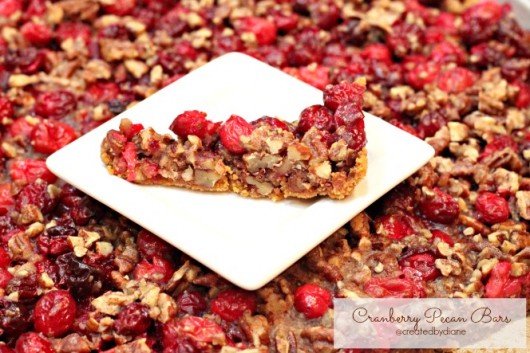 2 cups graham crackers crumbs
8 tablespoons melted butter
⅓ cup sugar
¾ cup flour
1 cup Southern Comfort (a fruity spiced liquor) substitute rum if desired
1½ teaspoon cinnamon
3 cups pecans chopped and toasted
3 cups cranberries
1½ cups light corn syrup
Mix graham cracker crumbs with butter and sugar and press into a half sheet pan prepared with baking spray.
Mix flour with Southern Comfort and cinnamon.
Toast chopped pecans over a med heat.
Put the toasted nuts in a bowl with cranberries and light corn syrup, then pour flour mixture on top and stir to coat well.
Pour over top of graham cracker crumbs.
Bake at 350 degrees for 25 minutes or unit firm.
Let cool before slicing.