Chocolate Pumpkin Cut Out Cookies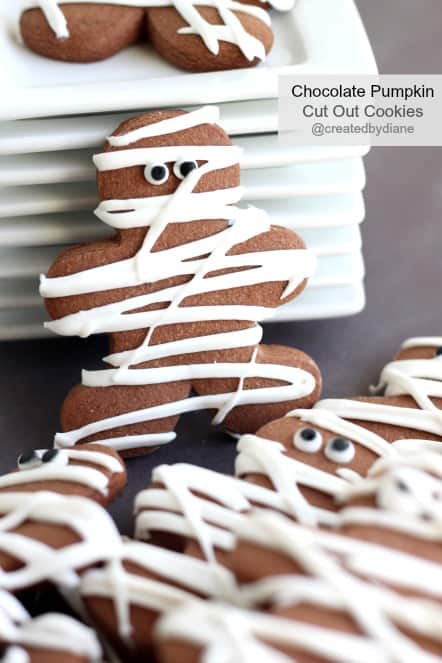 1 cup butter
1 cup brown sugar
1 egg
1 teaspoon vanilla extract
¼ cup melted and cooled 60% cacao Ghiradelli Chips
2 tablespoons unsweetened cocoa (dutch process)
½ teaspoon pumpkin spice baking emulsion (I used Loranns)
2 teaspoons pumpkin pie spice
3 cups flour
2 teaspoons baking powder
1 teaspoon salt
Preheat oven to 400 degrees.
In a mixer with bowl, beat butter and sugar
Add egg, pumpkin emulsion, vanilla, melted and cooled chocolate, cocoa, and pumpkin spice, mix well.
Add in flour, baking powder, salt and blend until all combined.
Roll out cookies in between wax paper or lightly floured work surface to ¼ inch thick and cut with a cookie cutter.
Place cookies onto parchment-lined baking sheets and bake for 7-9 minutes or until edges are firm.
Remove cookies from baking sheets when they are cooled.
ROYAL ICING RECIPE and INSTRUCTIONS:
https://www.createdby-diane.com/2013/10/royal-icing-googly-eyes.html
You'll need to print these instructions too!
I piped the eyes on with a #2 tip on the whites of the eyes and a #1 with the black.
I used a #264 tip for the white mummy stripes, alternatively, you can use a #5 pinched into an oval if needed.
Recipe by
Created by Diane
at https://www.createdby-diane.com/2013/10/chocolate-pumpkin-cut-out-cookies.html