Grilled Romaine, Chicken, Peaches and Blue Cheese Salad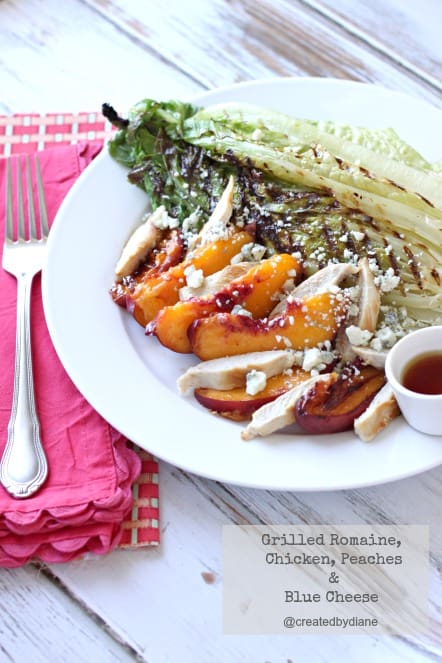 1 Romaine Lettuce Heart
1 tablespoon olive oil
1 peach, pitted and cut in half
1 boneless skinless chicken breast cooked and sliced
2 tablespoons crumbled blue cheese
1 tablespoon olive oil
Split the lettuce in half lengthwise leaving the core in.
Heat grill or grill pan lightly oil the cut side of the lettuce so it doesn't stick.
Cook the lettuce for 3-4 minutes until it softens slightly and has grill marks.
Oil the cut side of the peach and place on grill or grill pan and cook 3-4 minutes. (if using a grill or larger grill pan you can do these at the same time.
Place 1/2 the lettuce on each plate, add 1/2 cooked sliced chicken breast, (heated if desired) slice the peach and place 1/2 on each plate and top each plate with 1 tablespoon crumbled blue cheese.
Makes 2 salads.
Serve with balsamic vinaigrette if desired.
Recipe by
Created by Diane
at https://www.createdby-diane.com/2013/09/grilled-romaine-chicken-peaches-and-blue-cheese-salad.html