Italian Turkey Mushroom Orzo Soup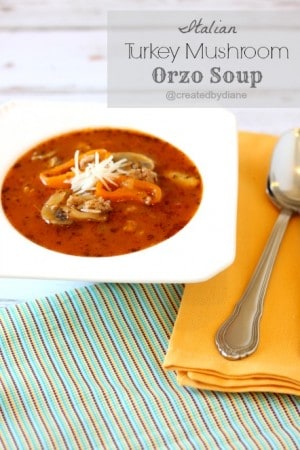 1 pound ground turkey
1/2 cup diced onion
1/4 cup sliced peppers
1 cup sliced mushrooms
4 cups chicken stock
1/2 cup orzo pasta
2 tablespoons fresh lemon juice
1 teaspoon oregano
1 teaspoon basil
pinch of rosemary
1/2 teaspoon garlic powder or 2 cloves minced garlic
1/2 cup tomato sauce
pinch of crushed red pepper if you like things a little spicy
Grated Romano Cheese for serving
In small pot heat chicken stock until it comes to a boil.
In a large saucepan, brown ground turkey with onion.
Add peppers and mushrooms and stir.
Then add lemon juice, oregano, basil, rosemary, and garlic.
Pour in hot chicken stock.
Add orzo and stir.
Cook 8-9 minutes until pasta is tender.
Stir in tomato sauce. Add crushed red pepper now if you are adding it.
Add grated Romano cheese on top of each bowl of soup.
Recipe by
Created by Diane
at https://www.createdby-diane.com/2013/09/italian-turkey-mushroom-orzo-soup.html