Chocolate Blueberry Cheesecake Cupcakes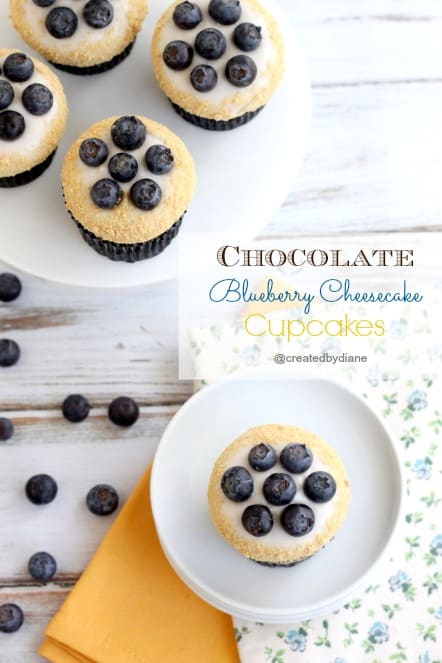 1 cup unsweetened cocoa
2 cups boiling water
2 3/4 cups sifted flour
2 tsp. baking soda
1/2 tsp. salt
1/2 tsp. baking powder
1 cup butter
2 1/2 cups sugar
4 eggs
1 tsp. vanilla extract
4 oz cream cheese (room temperature)
1/2 cup butter (slightly softened)
5 cups powdered sugar
10 drops cheesecake flavor (LorAnns)
1 teaspoon vanilla extract
3 Tablespoons heavy cream
Blueberries for Garnish
1/2 cup graham cracker crumbs for Garnish
In medium bowl combine cocoa with water mixing with wire whisk until smooth. Cool completely. Sift flour with baking soda, salt, and baking powder.
In large bowl beat on high, butter, sugar, eggs, and vanilla until light about 5 minutes.
On low speed beat in flour mixture and cocoa mixture Do not over beat. Pour into cupcake lined pan. Bake 18-20 minutes at 350 degrees (reduce temp for dark pans) Do not over bake as they will become dry.
Beat room temperature cream cheese with butter.
Add powdered sugar, cheesecake flavor, vanilla and heavy cream together until smooth and creamy.
Pipe frosting onto cupcakes with a 809 tip on a piping bag and then gently roll the edges of each cupcake into graham cracker crumbs. I find it easiest to pour the crumbs into my hand and press them into the edge as I roll the cupcakes.
Place blueberries on top of each cupcake.
If you like lots of frosting double the frosting recipe.
Recipe by
Created by Diane
at https://www.createdby-diane.com/2013/09/chocolate-blueberry-cheesecake-cupcakes.html