Shrimp Fried Rice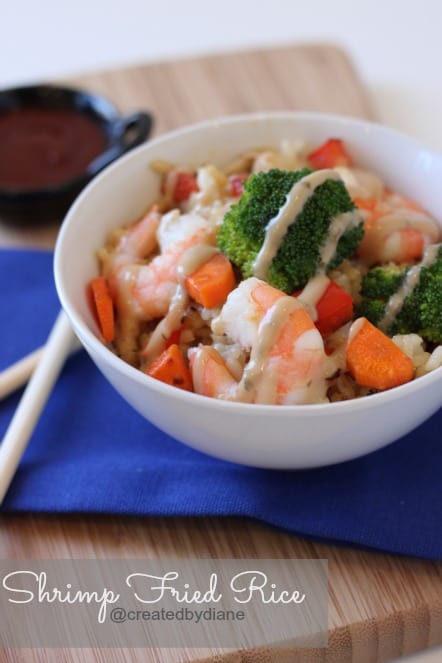 3 cups cooked rice (I use Cal Rose)
1/4 cup diced onion
1/2 cup red pepper
2 carrots diced
2 cups broccoli florets
1/2 lb cooked medium shrimp
3 tablespoon Asian Ginger Sauce from (Kraft Recipe Makers-Asian Fish Tacos)
drizzle Creamy Teriyaki Sauce on top
Sriracha Sauce if you like a spicy kick!
Pre-cooked and cooled rice makes for the best fried rice. Making the rice a day ahead I find is easiest. If you make the rice when you will be preparing this dish, cook rice according to package and then place on thin tray spread out an place in refrigerator to cool rice off before adding it to the rest of the dish.
Saute onion, then add pepper, carrots and cook for a minute.
Add broccoli and stir.
Then add in rice and add Asian Ginger Sauce sauce, stir on medium-low heat.
Add in shrimp and stir.
Serve with a drizzle of creamy teriyaki sauce on top and Sriracha if you like it spicy.