Lavender Chocolate Chunk Frozen Yogurt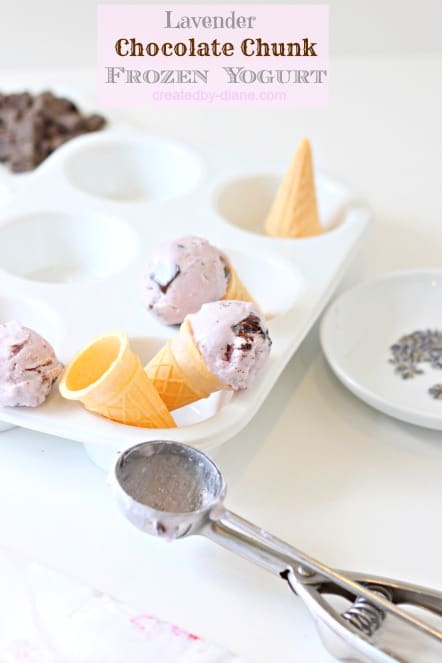 2 cups plain yogurt (I used greek yogurt)
1/4 cup sugar
1 teaspoon vanilla extract
10 drops lavender extract
1 teaspoon vodka (although that can be omitted as I found it didn't work out for easier scooping)
1/4 teaspoon lavender
1/2 cup chocolate chunks
Mix yogurt, sugar, vanilla, and extracts (and vodka if you are going to try it, make a tablespoon or so would help for easier scooping)
Place in ice cream maker. (The ice cream maker I used has to have to bowl frozen, be sure to do that the day ahead)
Run ice cream maker according to directions.
Then scoop out the frozen yogurt and stir in chocolate chunks and lavender pieces. Place frozen yogurt into a serving dish and enjoy or spread in a loaf pan to put into the freezer to firm it up a bit.
I added 10 blueberries that I heated in the microwave and pressed and strained through a fine strainer, to give this the pretty lavender color, without using artificial coloring.
Recipe by
Created by Diane
at https://www.createdby-diane.com/2013/07/lavender-chocolate-chunk-frozen-yogurt.html