Coconut Banana Cake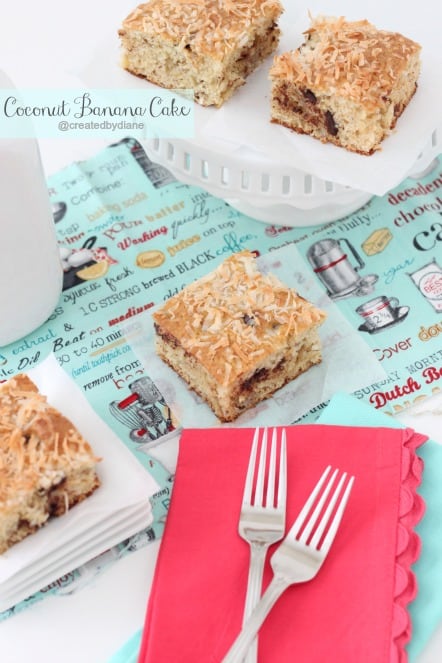 2 ripe bananas
2 cups flour
3/4 teaspoon baking soda
1/2 teaspoon salt
1/2 cup sugar
1/4 cup butter (softened)
2 eggs
1/4 cup milk
4 tablespoons dry buttermilk
2 teaspoons vanilla extract
3/4 cup sweetened coconut, (divided into 1/2 & 1/4 cups)
1/2 cup chocolate chips
2 tablespoons flour to mix with chocolate chips so they don't all settle to the bottom.
Preheat oven to 350 degrees
Spray a 9X13 pan with baking spray and line with parchment for easy removal.
In mixer beat butter and sugar until it's well blended.
Add the eggs one at a time, combining at each addition.
Add milk, dry buttermilk and vanilla and mix to combine.
Add the bananas sliced in 1/2-1 inch chunks, then mix.
Add the four, baking soda and salt, mix to combine.
Mix chocolate chips with flour and sift off extra flour.
Add in 1/2 cup coconut.
Stir in chocolate chips then pour batter into prepared baking pan. Top with remaining 1/4 cup coconut
Bake for 35-40 minutes or until golden in color and set up so toothpick comes out clean.