Apple Cinnamon Scones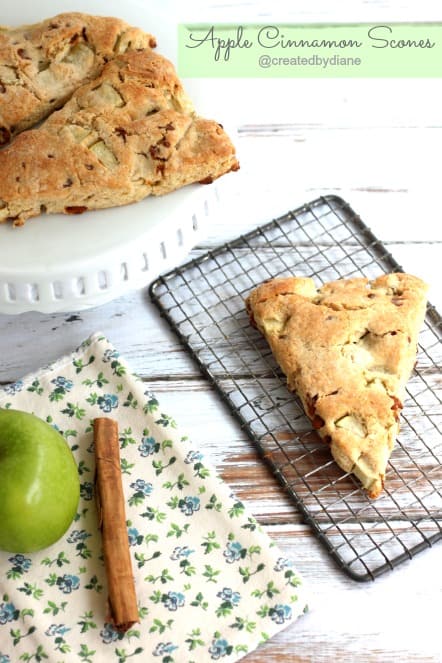 2 cups flour
¼ cup sugar
3 teaspoons baking powder
1/2 teaspoon cinnamon
1/2 teaspoon salt
½ cup COLD butter
¼ cup skim milk
1 teaspoon vanilla
2 eggs
1 Granny Smith Apple, diced
½ cup Hershey's Cinnamon Chips
Mix together flour, sugar, baking powder and salt and cinnamon.
Cut in butter until mixture resembles coarse crumbs.
Add milk, vanilla eggs.
Stir in apples and chips.
Knead on a floured surface (or parchment) lightly and pat into a circle, cut with a knife.
Transfer to parchment lined baking sheet. (I use two pastry scrapers to transfer the cut circle, then I separate them on the parchment lined baking sheet.
Bake at 400 degrees for 15 minutes or until lightly golden.