Almond Joy Cupcakes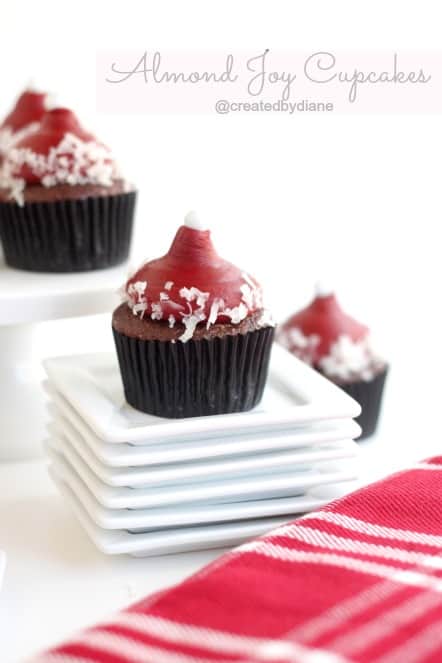 1 box Betty Crocker German Chocolate Cake mix (plus ingredients to prepare)
2 16 oz. Betty Crocker Almond Joy Frosting
4 cups powdered sugar
2 teaspoon red food coloring (I use Americolor)
1 11.3 oz bag of snack size Almond Joy Candy
1 cup shredded coconut
24 white Sixlets Candies
Mix cake mix according to package directions.
Place 3 tablespoons of batter into each lined cupcake area.
Put one Almond Joy Candy into the center of each area of batter.
Bake at 325 degrees for dark pans for 18 minutes.
Cool cupcakes completely before frosting.
Mix red food coloring with Almond Joy Frosting along with the powdered sugar to make the frosting smooth, but firm.
Pipe frosting onto cupcakes with an 809 round tip fitted on a piping bag.
Press coconut around the edge of each cupcake.
Top each cupcake with a Sixlet Candy.