Hershey's Cookie Cake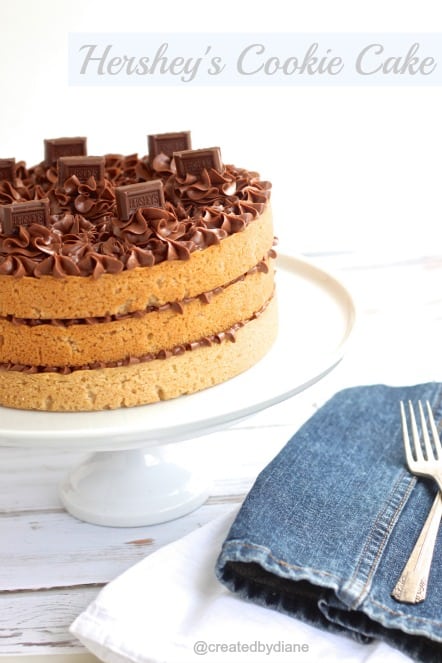 2- 21 oz. packages Betty Crocker Sugar Cookie Mix (plus ingredients to prepare)
1 1/2 cups flour
2-10 oz. containers Hershey's Milk Chocolate Frosting
1 cup powdered sugar
Hershey candy bars for garnish
Prepare cookie dough according to package and add in additional flour.
Line 3 8" cake pans with parchment paper on the bottom and spray a baking spray on it and around sides.
Press 1/3 of the dough into each pan evenly to 1/2 inch thick.
Bake at 375 degrees for 20 minutes, or until cookie is fully cooked.
Allow cookies to cool in pan, then turn over to remove from pans.
Peel off parchment paper.
Stir frosting with powdered sugar so it's a little more firm and doesn't squish out in between the layers of cookies and place into a piping bag fitted with a star tip, and pipe frosting onto each cookie, layering them as you go.
Put Hershey's candy bars into the frosting and let the frosting set up in the fridge for at least an hour.
Just be sure to remove cake 30 minutes before serving so it will slice nicely.