Mexican Rice Recipe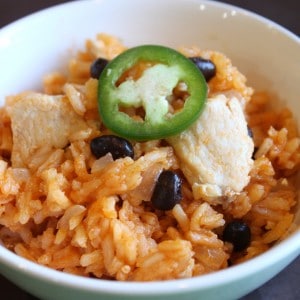 2 cups long grain rice
2 Tablespoons oil
3 cups chicken stock
1 Tablespoon Knorr Tomato Bouillon
1 large onion
1 8oz can unsalted tomato sauce
1 can black beans
3 cooked boneless skinless chicken breasts
cilantro-jalapeno (optional)
In a large frying pan ( you will need a lid to fit this pan)
Place 2 Cups long grain white rice
Tablespoons oil
Cook on medium heat stirring rice until it starts to turn golden about 3-4 minutes.
Add 3 cups chicken stock
Tablespoon Knorr Tomato Bouillon
large onion diced
oz. can unsalted tomato sauce
Cover with lid, cook on high temperature until it comes to a boil. Turn temperature to low for 30 minutes or until rice is tender.
Uncover, then add
can drained black beans
cooked and diced chicken breasts ( I cut 3 boneless skinless chicken breasts into 1 inch pieces then cook them in a heated frying pan while the rice is cooking)
The rice is so hot, that the black beans heat up very quickly. By the time I stir everything together, cover it for a minute until everyone sits down, it's done.
I wish I had fresh cilantro. I just ran out of it the day before. Why does that always happen.
The next morning when I was eating a bowl of this, I sprinkled on some dry cilantro, it was fine but you know...not the same as fresh.
I did have a jalapeño, so I thinly sliced it and topped off the bowls with it. It added a little kick!