Dark Chocolate Fudge Cake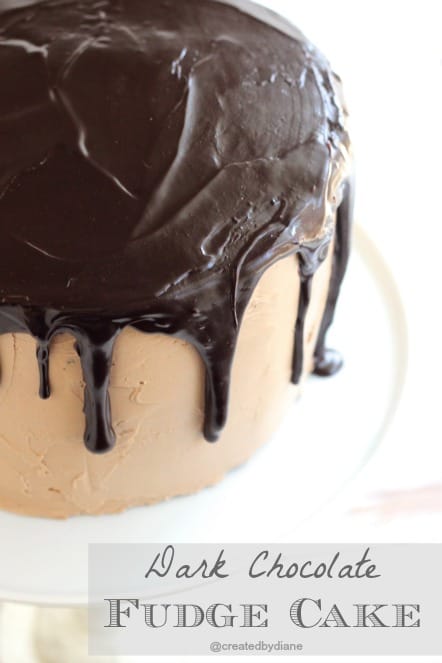 1 cup unsweetened Hershey's Special Dark Cocoa
2 cups boiling water
2 3/4 cups sifted flour
2 tsp. baking soda
1/2 tsp. salt
1/2 tsp. baking powder
1 cup butter
2 1/2 cups sugar
4 eggs
1 tsp. vanilla extract
additional ingredients for fudge filling and frosting are needed
Preheat oven 350 degrees
In a medium bowl combine cocoa with water mixing with wire whisk until smooth.
Cool completely.
Whisk flour with baking soda, salt, and baking powder so there are no lumps.
In large bowl beat on high, butter, sugar, eggs, and vanilla until light about 5 minutes.
On low speed beat in flour mixture and cocoa mixture.
Do not over beat.
Prepare 3 8" baking pans with parchment on the bottom and baking spray on the sides for easy removal of cake after it's baked.
Divide the batter evenly in the 3 pans.
Bake for 30-35 minutes or until a toothpick comes out clean.
Cool cake in the pan, then turn the cake out on a cooling rack to be sure they are completely cooled. I refrigerate or freeze my cake so it's cold when the frosting goes on and the layers are easy to handle. It also seems to help that the cake stays moister if I freeze them. A couple hours or overnight.
I wrap the cake layers in plastic wrap and unwrap them when I take the out of freezer and in about 10 minutes begin assembling the cake.
Baking strips around the outside of the cake pans REALLY helps the cakes bake evenly. Trust me, I do not like to level cakes, and they are a life saver. If you don't have them, wet towel strips and pin them around the edge of the pans so the batter bakes evenly.
Place 3/4 cup in between each cake layer and smooth almost to the edge.
Add a tablespoon of instant coffee, ground fine (I press the coffee with a spoon into a strainer until it's a powder) to the frosting along with 1 cocoa.
Spread a thin layer of frosting over cake and refrigerate for 15 minutes then frost with remaining frosting.
Drizzle hot fudge over the cake and spread with an offset spatula on top.
Place cake into the fridge to chill the fudge so it doesn't drip down totally.
Remove cake an hour before serving.
Recipe by
Created by Diane
at https://www.createdby-diane.com/2013/05/dark-chocolate-fudge-cake.html