Mexican Rice with Elote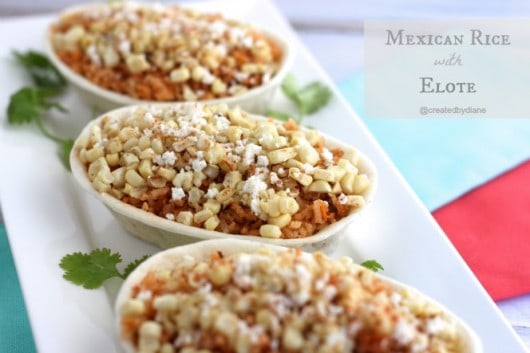 1 cup rice
1 3/4 cup water
1/2 cup Old El Paso Roasted Tomato Mexican Cooking Sauce
1 tomatillo, diced
1 jalapeño, seeded and diced
2 scallions, diced
2 ears corn on cob
1/4 oz crumbled Cotija Cheese
1 tablespoon butter
cayenne pepper to taste
6 Old El Paso Stand and Stuff Tortilla Bowls
Heat a tablespoon of oil in a hot skillet and sauté the dry rice.
Stir in the diced jalapeño, tomatillo and scallions stir until tender.
Next, add the water and tomato sauce, turn the temperature to low and cook until rice is tender.
In separate skillet heat butter, add corn that has been cut off the cob. Cook until golden.
Heat tortilla bowl as directed on package, add Mexican Rice and top with corn, cheese, and cayenne pepper.