Grilled Pina Colada Pie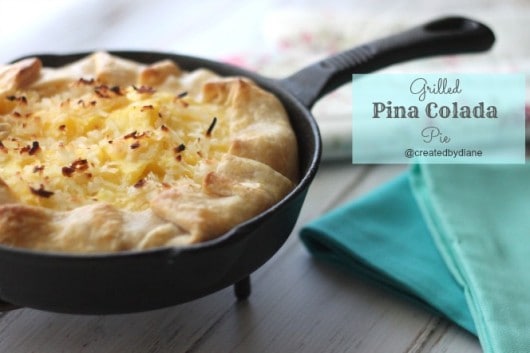 1 box Pillsbury Pie Crust (2 crusts)
1 fresh pineapple
1 package instant vanilla pudding mix
1 1/2 cups milk (slightly less than package requires)
1 cup sweetened shredded coconut
1 tablespoon rum (or 1/4 teaspoon rum extract for non alcoholic substitution)
Take pie dough out of fridge and place it on the counter so you can roll it out nicely after about 15 minutes.
Place one pie crust in an eight inch cast iron skillet.
Mix pudding with milk and let set up for 5 minutes.
Cut the pineapple into chunks and mix into pudding after the pudding has set.
Stir in coconut.
Place the pineapple and pudding mix into pie crust.
Mix egg with water and brush on edges of pie crust, so it browns nicely.
Put cast iron skillet on preheated grill at 450 º
Cook for 10-14 minutes or until the crust is golden and firm.
Remove from grill and allow to cool a few minutes and then serve.
Cut pie crust into 4 6" circles (using a bowl as a guide helps)
Place 1/4 cup filling onto one half of each pie crust.
Fold over other half and put some egg wash on the edge and crimp to seal the hand pies with a fork.
Be careful not to over fill the hand pies or the filling will come out the edges.
Lightly oiling the pie crust will help it from sticking to the grill.
Place hand pie on grill for 8 minutes and then turn over and cook other side a few minutes more until crust is golden and cooked.