Coconut Lime Rice Pudding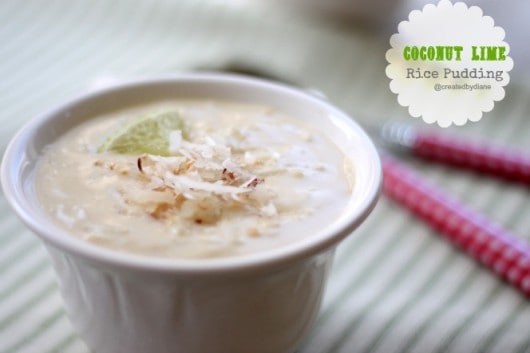 2-13 oz cans coconut milk
1-12 oz can evaporated milk
1/2 cup Rice Select Jasmati Rice
1/2 teaspoon salt
2 eggs
1/2 cup sugar
1 teaspoon vanilla extract
3 tablespoons fresh lime juice
1/2 teaspoon coconut extract
1/2 cup coconut
1/2 cup toasted coconut for topping
In large saucepan add milk and rice and salt.
Cook on medium heat for stirring until tender (about 25-30 minutes)
Milk will not be all absorbed.
Remove pan from stove.
Beat eggs with evaporated milk and sugar, along with lime and extracts.
Pour slowly while continually stirring into rice mixture. (stir quickly so the eggs don't curdle)
Stir in coconut.
Return to medium heat for 3 minutes and then pour into a casserole pan or serving dished to cool.
Top with toasted coconut. (toast coconut in a pan on medium low heat until golden)
Serve warm or let cool and refrigerate.
Recipe by
Created by Diane
at https://www.createdby-diane.com/2013/04/coconut-lime-rice-pudding.html