Savory Pistachio Scones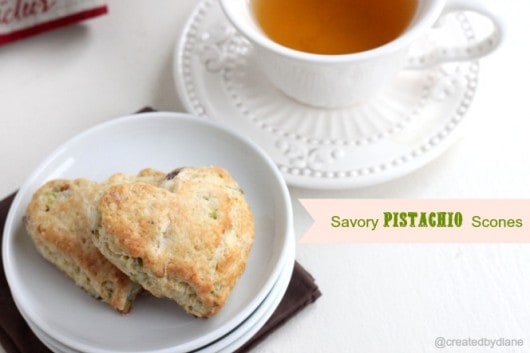 2 cups flour
1/4 cup sugar
3 teaspoons baking powder
1 teaspoon salt
1/2 cup COLD salted butter
1/2 cup whole milk
1 teaspoon vanilla
6 drops Pistachio Flavor
2 eggs
1/2 cup chopped roasted pistachios
Mix together flour, sugar, baking powder and salt.
Cut in butter until mixture resembles coarse crumbs.
Add milk, vanilla and pistachio flavor along with the eggs and pistachios.
Mix until blended.
Knead on a floured surface, or between wax paper.
Cut with biscuit cutter.
Bake at 400 degrees for 10-12 minutes or until lightly golden.