Green Velvet Cupcakes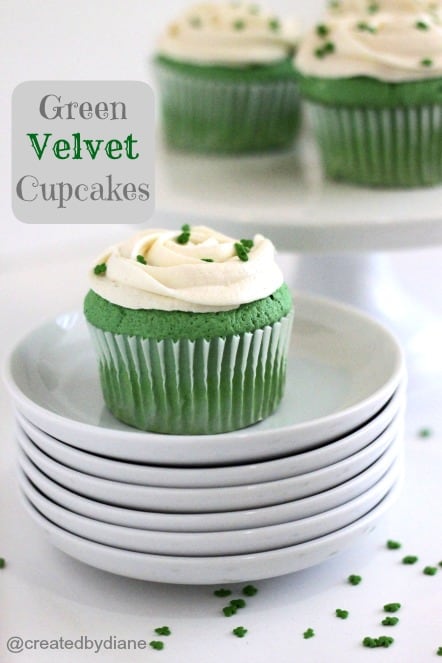 1 box white cake mix (plus ingredients listed to prepare)
2 tablespoons dry buttermilk
2 tablespoons cocoa
8 drops green food coloring
1 3.4 oz package vanilla pudding mix
1 cup butter
4 oz cream cheese
1/2 teaspoon vanilla extract
1/4 teaspoon mint extract
4 tablespoons heavy cream
3 1/2 cups powdered sugar
prepare cake mix according to package directions, add to it the dry buttermilk, food coloring, cocoa and dry pudding mix.
Bake cupcakes according to package.
Allow cupcakes to cool completely.
Beat room temperature butter.
Then beat in room temperature cream cheese.
Add in extracts, heavy cream and sugar until smooth and creamy.
Pipe frosting on cupcakes with a piping bag and a 2D tip.
Apply tiny shamrock sprinkles before icing sets up so they stick.