Mint Cappuccino Cupcakes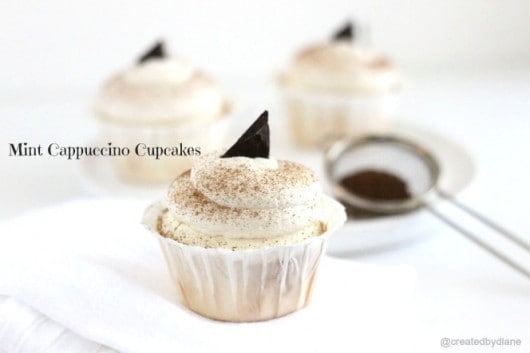 1 box white cake mix (plus ingredients listed to prepare)
2 teaspoons instant coffee
1 cup butter
4 cups powdered sugar
3 tablespoons heavy cream (more if needed)
1/2 teaspoon peppermint extract
1/4 teaspoon instant coffee
5 drops white Americolor food coloring
cut up peppermint patties
1 teaspoon instant coffee
Prepare cupcakes according to package adding in the instant coffee along with the mix.
(alternatively) you could replace the liquid in the cake mix with cooled coffee, but the cupcakes won't have a white look to them.
Beat butter and sugar along with cream, mint and coffee, until smooth.
Pipe icing on cooled cupcakes with a #809 tip.
Place a piece of peppermint patty on top and dust with some instant coffee.