Lemon French Toast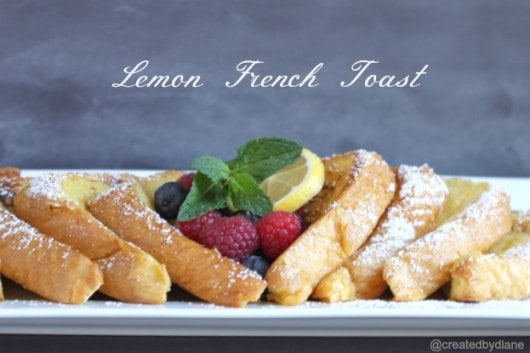 4 slices texas toast
1 cup milk
2 eggs
1/4 cup fresh lemon juice and zest from 1 of the lemons
1 teaspoon vanilla
1/2 teaspoon lemon emulsion (or lemon extract)
2 tablespoons Land O Lakes Butter with Canola Oil
2-3 tablespoons powdered sugar
Mix, milk, lemon juice, vanilla and lemon emulsion along with eggs until well blended.
Dip each piece of bread into the batter and turn over so both sides absorb the mixture and it has time to soak in.
Heat skillet to medium, place 1 tablespoon butter in pan and place bread into pan and cook on each side until lightly crisp, then cover it for another minute or to until center of toast is cooked through.
Spread butter on top of each slice and dust with powdered sugar.