Pepper Jack Mac and Cheese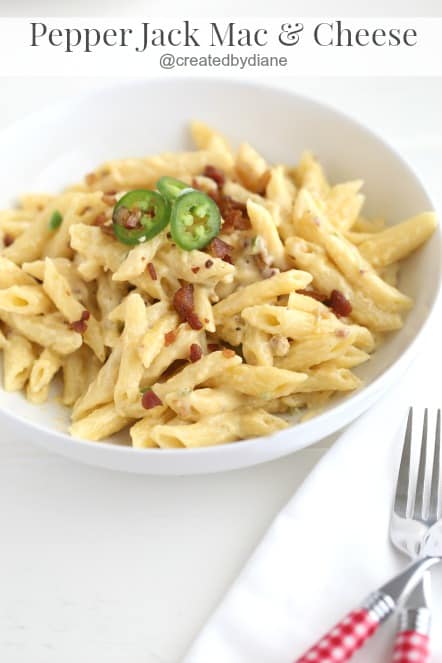 1 pound cooked pasta (I used mini Penne)
1 tablespoon olive oil
¼ cup minced onion
1 teaspoon minced garlic
1 tablespoon butter
1 tablespoon flour
3 cups milk
½ pound (approx. 2 cups) grated cheddar cheese
¼ pound (approx. 1 cup ) grated pepper jack cheese
1 roasted, seeded, diced jalapeños.
½ cup crumbled bacon
cilantro
1 jalapeño, roasted, seeded and diced.
While I prepare the sauce I cook the pasta that way the pasta is hot when the sauce is complete.
Saute onion and garlic in olive oil
Add butter and flour and whisk until butter is melted and cook the flour for a minute on medium heat.
Slowly add the milk in while whisking, keep adding the milk until it's all incorporated and looks like a sauce. If you add the milk too quickly it will be lumpy, add ½ cup at a time slowly while whisking:trust me, I've been in a hurry and rushed it and wanted to start all over sometimes.
Once all the milk is incorporated, add the cheeses and whisk the cheese into the sauce until smooth.
Stir in 3 roasted and diced jalapeños.
Pour sauce over pasta.
To top off this dish, I heated the crumbled bacon until it was crispy.
Then topped the Pepper-Jack Mac and Cheese with the bacon, cilantro and the additional jalapeño.
The large dish pictured is this recipe doubled-two pounds of pasta-which I find is a great amount to bring to a party.
Recipe by
Created by Diane
at https://www.createdby-diane.com/2013/02/pepper-jack-mac-and-cheese.html