Sprinkle Scones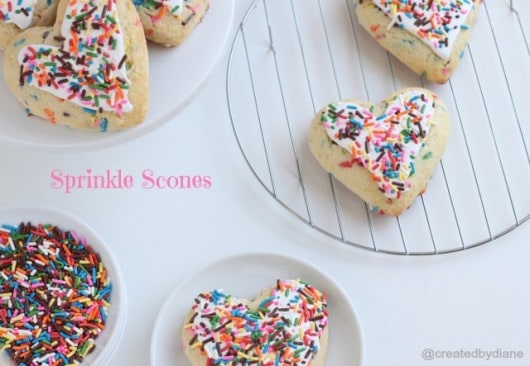 2 cups flour
3/4 cup sugar
3 teaspoons baking powder
1 teaspoon salt
1/2 cup cold butter (diced)
1/2 cup heavy cream
1/4 teaspoon LorAnn's Cake Batter Flavor (can be omitted)
1 teaspoon Butter Vanilla Extract (Vanilla Extract can be substituted)
2 eggs
1/2-3/4 cup rainbow sprinkles (divided)
1 cup powdered sugar
1 tablespoon corn syrup
2 teaspoons water
6 drops white Americolor food coloring for a bright white color
1 teaspoon vanilla extract
Place flour, sugar, baking powder and salt into food processor along with cold butter.
Pulse until mixture resembles coarse crumbs.
Add heavy cream, flavors and eggs, stir until incorporated, then add 1/4 cup of the sprinkles.
Roll scone dough ½ inch thick either on floured surface or between floured wax paper.
Cut with cookie cutter.
Place scones on parchment lined baking sheet.
Bake at 400 degrees 8-10 minutes.
Prepare icing
Mix powdered sugar along with corn syrup, coloring, vanilla and water until smooth and the consistency you can work with. Add water to thin it or powdered sugar to thicken the icing.
Pipe icing onto cooled scones, and add remaining sprinkles immediately before icing hardens.