Mac and Cheese Soup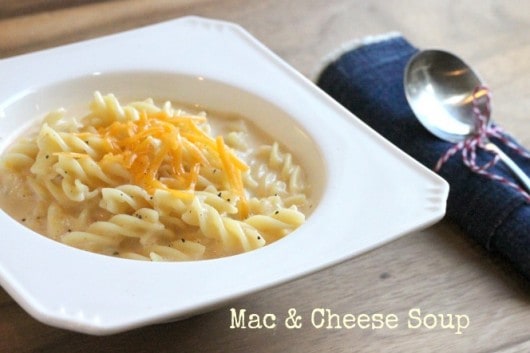 1 lb pasta
2 tablespoons butter
2 tablespoon flour
4 cups milk
1 tablespoon chicken flavor/bouillon
1 onion diced
6 oz grated, cheddar cheese
1/8 teaspoon celery salt
Salt and Pepper to taste
1/2 cup grated Romano Cheese (optional)
*Add a cup of water if the broth is really thick
Cook pasta according to package directions.
Place butter in saucepan and heat on medium, with 1 tablespoon olive oil and saute onion, until tender.
Add in flour and whisk.
Slowly pour in milk whisking constantly. Allow the sauce to thicken as you add the liquid, don't pour it all in at once.
Stir in chicken flavor and cheese.
Pour over cooked pasta and serve.
If you aren't going to be eating it all and want it to remain more soup-like, only add half a pound of pasta. If you add all the pasta it will thicken and set up like a saucy mac and cheese, which is really delicious.
But won't resemble soup. It will reheat and be more like mac and cheese, still delicious, but if you want it to reheat like soup, you'll most likely need to add more chicken broth to thin out the sauce.