Salted Caramel Cheesecake Oatmeal Cups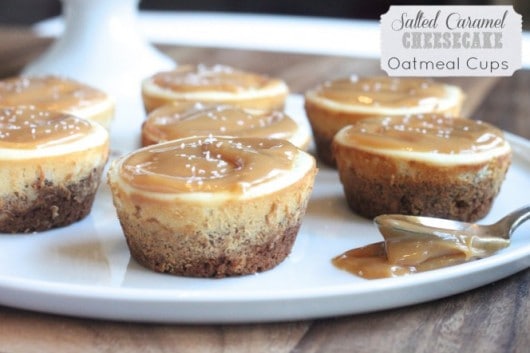 Oatmeal cups portion:
¾ cup butter
½ cup brown sugar
¼ cup flour
½ teaspoon salt
1 teaspoon baking powder
1 egg
½ teaspoon cinnamon
1½ cups oats
cheesecake:
1 8oz package room temperature cream cheese
½ cup sugar
1 egg
1 teaspoon vanilla extract
Making the Caramel Sauce takes about 1½ hours, so you will want to start this part first or you can make a day or so ahead of time.
Beat butter with sugar.
Beat in egg.
Then add flour, salt, baking powder, cinnamon.
Mix in oats until all combined.
Add 2 teaspoons of mix into each section of the cupcake pan.
Bake at 350 degrees for 8 minutes.
Prepare cheesecake mix:
Beat cream cheese with sugar.
Add egg and vanilla and mix until smooth.
Pour onto baked oatmeal base and place into 350 degree oven for 12-15 minutes. When cheesecake is set and firm.
Test with toothpick.
Remove them from the cupcake pan when they are cool.
Top with salted caramel sauce *recipe below and top with a little Kosher Salt.
Salted Caramel: I made caramel according to
Eagle Condensed Milk Recipe
. I added a teaspoon of Kosher Salt when it was finished cooking.
Recipe by
Created by Diane
at https://www.createdby-diane.com/2012/12/salted-caramel-cheesecake-oatmeal-cups.html