Peppermint Mocha Cut Out Cookies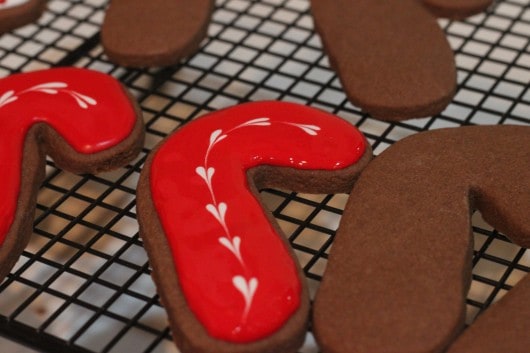 Serves:
18-4 inch cookies
1/2 cup butter
3/4 cup sugar
1 egg
1/2 teaspoon vanilla extract
1/2 teaspoon peppermint extract
1 1/2 cups Gold Medal All Purpose Unbleached Flour
1 1/2 tablespoons instant coffee
2 tablespoons unsweetened cocoa
1 teaspoon baking powder
1/2 teaspoon salt
Beat lightly softened butter and sugar together in mixer with paddle attachment until light and creamy.
Add the egg and mix well.
Mix in vanilla and peppermint extracts.
Add in the flour, baking powder, and coffee, cocoa and salt.
Mix until it's all combined on medium until dough pulls away from the sides of the bowl.
Roll out dough on floured surface and cut with cookie cutter.
Place cut out cookie dough on parchment lined baking sheets
Bake cookies at 400 degrees for 8-10 minutes.
Allow cookies to cool on cookie sheet for 2-3 minutes,
Transfer cookies to cooling rack.
When cookies are completely cooled.
Outline and fill cookies with royal icing *recipe in notes
While the icing is still wet place dots in the icing and drag a toothpick through the dots to create the heart design.
Practice on a piece of wax paper until you get the hang of it.
Allow icing to dry on cookies completely before stacking or placing in an airtight container at least 12 hours.
The icing will keep the cookies fresh without them going stale.
Royal Icing Recipe
This recipe easily doubles and triples depending on how many cookies you need.
Recipe by
Created by Diane
at https://www.createdby-diane.com/2012/12/peppermint-mocha-cut-out-cookies.html