Chocolate Chip Banana Cake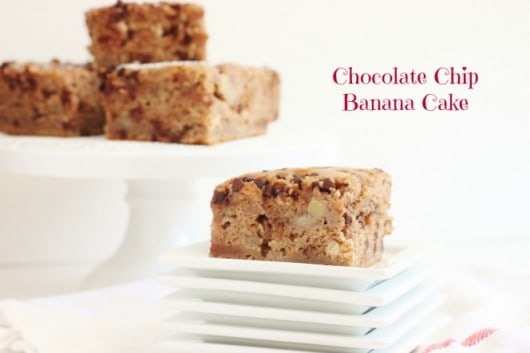 4 ripe bananas (about 2 cups)
2 cups flour
3/4 teaspoon baking soda
1/2 teaspoon salt
1 cup sugar
1/4 cup butter (softened)
2 eggs
1 cup milk
4 tablespoons dry buttermilk
2 teaspoons vanilla extract
3 tablespoons Nutella
1 1/2 cup mini chocolate chips (divided)
2 tablespoons flour to mix with chocolate chips so they don't settle to the bottom.
Preheat oven to 350 degrees
Spray a 9X13 no-stick baking pan with baking spray.
In mixer beat butter and sugar until it's well blended.
Add the eggs one at a time, combining at each addition.
Add milk, dry buttermilk,Nutella, and vanilla and mix to combine.
Add the bananas sliced in 1/2-1 inch chunks, then mix.
Add the four, baking soda and salt,mix to combine.
Mix chocolate chips with flour and sift off extra flour.
Stir in one cup chocolate chips and then pour batter into prepared baking pan. Top with remaining 1/2 cup chocolate chips.
Bake for 40 minutes or until golden in color and set up so toothpick comes out nearly clean. It will be a bit sticky as this is a moist cake.
I don't mash up the bananas, I just mix them in once they are cut into 1/2-1 inch pieces.
Recipe by
Created by Diane
at https://www.createdby-diane.com/2012/11/chocolate-chip-banana-cake.html