S'more Brownie Pie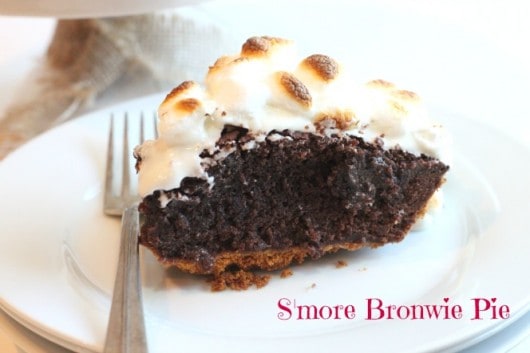 1 box brownie mix-and ingredients to prepare (Betty Crocker)
1 graham cracker crust
6 oz white frosting (1/2 container Betty Crocker whipped white)
21/2 cups mini marshmallows
Prepare brownie mix according to package directions.
Pour into graham cracker crust
Bake at 350 degrees for 40-50 minutes or until brownie is baked, but not over done or it will be dry.
Allow brownie to cool for 5 minutes.
Heat 1 cup mini marshmallows in microwave for 20 seconds or until soft and spreadable, mix those with the frosting and spread on top of the brownie.
Add 1 cup marshmallows to top and put under broiler for a minute. Really it only takes a minute don't walk away and burn them.
Slice and serve warm.