My Favorite Chili Recipe (LARGE PORTION 9QT)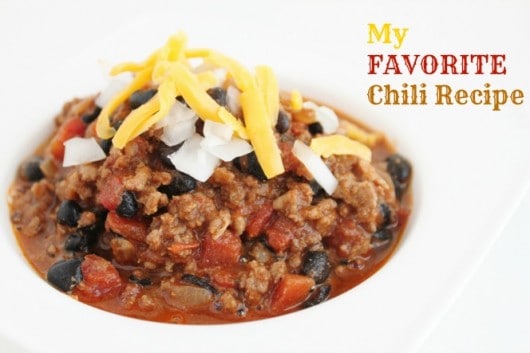 Author:
Diane Schmidt, Created by Diane
6 lbs ground beef
2 lbs ground pork
6 lb can diced tomatoes
4 cans black beans, drained
6 small onions diced ( 2 large)
8 cloves garlic (pressed or chopped)
1/4-1/3 cup chili powder
3 tablespoons chicken bouillon powder ( I use Knorr)
2 tablespoons ground cumin
1 tablespoon smoked paprika
1 tablespoon dry oregano
1 tablespoon cocoa powder
optional, add a tablespoon of crushed red pepper flakes for some spice
In a dutch oven ( I use a 9qt dutch oven and it fills it to the top-so you may want to use a larger pot or two smaller pots)
On medium heat, saute onion garlic, ground beef, ground pork until all meat is cooked.
Add tomatoes, beans, and spices.
Stir and heat on medium until it comes to a boil, turn on low for at least 1/2 hour and hour is even better.
Add in a cup of water mixed with 3 tablespoons cornstarch mixed well, drizzled into the boiling chili and give it a gently stir so it'll thicken the chili nicely.
Serve topped with cheese, sour cream, and green onions.
You can make 1/2 a batch or even a 1/4 batch depending on how much chili you need.

I like my chili topped with diced onion or scallions and cheddar cheese and sometimes diced jalapenos.
Recipe by
Created by Diane
at https://www.createdby-diane.com/2012/11/my-favorite-chili-recipe.html