Mini Chocolate Pudding Cookie Cups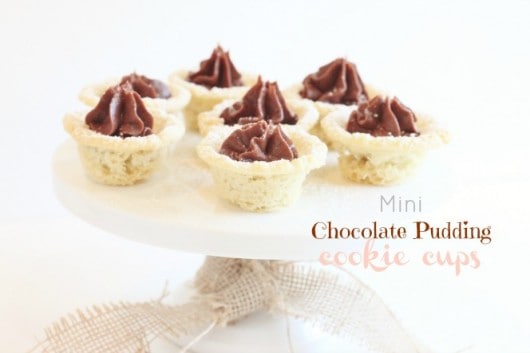 1 refrigerated roll Pillsbury Sugar Cookie Dough
1 small package instant chocolate pudding mix
1 cup heavy cream
Whisk the heavy cream with the chocolate pudding mix until well blended.
Put it in the refrigerator to firm up while you bake the cookie cups.
Divide the cookie dough into 2 teaspoons sized portions and press them into mini cupcake pan prepared with a baking spray so they don't stick or mini cupcake liners.
Bake at 350 for about 10 minutes or just until edges are golden.
When cookie cups are completely cooled, pipe in pudding mixture with a 1M tip.
Add 1/4 cup flour if you feel the dough is soft. If you work with cold dough you won't need to. If you dough has warmed to room temperature I suggest adding the flour, or after you separate and for the cookie cups in the mini cupcake pan-refrigerate them for 10 minutes or so until the dough is chilled. I'm sure any sugar cookie recipe will work too. Peanut butter cookie dough would be delicious. You can dust them with powdered sugar just before serving. 16 oz cookie dough will make approx.32 cookie cups
Recipe by
Created by Diane
at https://www.createdby-diane.com/2012/11/mini-chocolate-pudding-cookie-cups.html