Rocky Road Brownies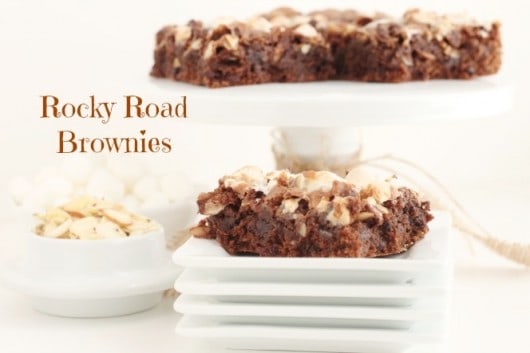 3/4 cup flour
1/4 teaspoon baking soda
1/4 teaspoon salt
1/3 cup butter
3/4 cup sugar
2 tablespoons water
1 (12 ounces) package Nestle semi-sweet chocolate chips, divided into 2- 1 cup measurements
1 teaspoon vanilla extract
2 eggs
1/2 cup slivered almonds
1 cup mini marshmallows
Prepare a 13x9 pan with a nonstick baking spray.
In a saucepan bring butter, sugar, and water to a boil
remove from stove.
Add in 6 oz chocolate chips and vanilla.
Stir until chocolate is melted.
Pour mixture into large bowl, then add in eggs beating after each egg addition.
Stir in flour, baking soda, and salt.
Then add the other cup of chocolate chips, almonds and 3/4 of the marshmallows and mix until all combined.
Pour into pan and top with the rest of the marshmallows.
Bake at 325 degrees for 30 minutes or until set but not until toothpick comes out clean or they will be too dry.