Nutella & Peanut Butter Hand Pies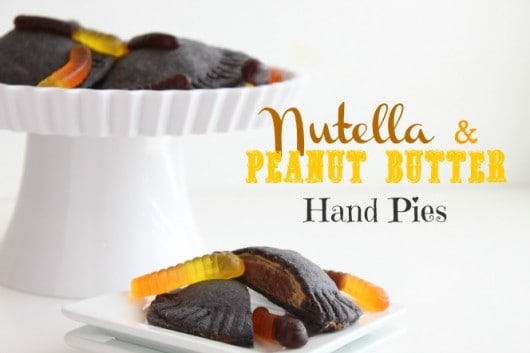 2 cups flour
½ teaspoon salt
⅔ cup shortening
5-6 tablespoons COLD water
1 teaspoon vanilla extract
1/4 teaspoon black food coloring (Americolor)
1 cup Nutella
1/2 cup Peanut Butter
Place flour and salt into a bowl and cut in shortening with pastry cutter until it all resembles coarse crumbs.
Mix water with coloring and vanilla and add it to the flour mixture.
Blend until smooth, then roll out on floured surface and cut with 3inch round cookie cutter.
Roll the dough as thin as you can, if you'd like it rolled thinner, cut the circles with the cookie cutter and re-roll each one and then re trim the excess, by re cutting each one with the cookie cutter again.
Spread a thin layer of peanut butter on each round of dough (about 1 teaspoon)
Then add on top of the peanut butter (about 2 teaspoon peanut butter)
Yes each dough round get filling and then you sandwich them together so there is essentially two portions of filling in each hand pie.
Add a small amount of water on your finger to the edges of the pie crust to seal them together.
Press the edges of the two pie crusts together with a fork.
Bake at 375 degrees for 15 minutes or until the pie crust is fully cooked and filling is heated through.
garnish with gummy worms, if you add the gummy worms to the tops of the hand pies when they are warm, they will melt a bit and stick to the hand pies. which I think look really cute.
I did try these with peanut butter and chocolate chips, but the chips didn't melt enough, so if you think chocolate chips would be a good substitution, well you may want to think again because Nutella-Chocolate Hazelnut Spread is the way to go.
Recipe by
Created by Diane
at https://www.createdby-diane.com/2012/10/nutella-peanut-butter-hand-pies.html