Pumpkin Peanut Butter Oatmeal Dog Biscuits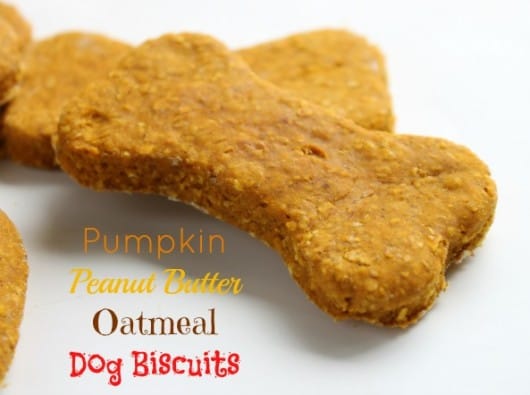 Author:
Diane Schmidt Created by Diane
3 cups oats
1/2 cup peanut butter
1 cup pumpkin puree
1 teaspoon cinnamon
1 teaspoon baking powder
2 eggs
cornstarch/ flour for rolling out cookies
Place the oatmeal into a food processor and pulse it until it's not so coarse, but it doesn't need to be fine as flour.
Add oatmeal, pumpkin, peanut butter, cinnamon, baking powder, and eggs to a mixing bowl then blend on medium speed until it's all mixed.
If it's overly sticky, add a tablespoon of cornstarch or flour to help dry it out a little so it's not difficult to roll out.
Roll out with a little flour and cut with cookie cutters.
Or roll out in between wax paper sheets, then cut with cookie cutter and place on parchment-lined baking sheets.
If you don't want to roll out and cut the dog treats with a cookie cutter, simply roll tablespoon size balls and bake them on the baking sheet.
Bake at 375 degrees for 15-20 minutes.
Cool on a rack until completely cooled.
Place in a container to keep them fresh, or in the freezer. I keep them in the freezer, they don't freeze solid as there is little liquid and my dog likes them right out of the freezer.
Add additional flour as needed for rolling cookies out so they aren't so sticky. If you flour wax paper and roll the cookie out in between floured wax paper sheets they are easier to transfer to the baking sheets.
** these do not have preservatives so be sure to refrigerate or freeze them. (my dog like them out of the freezer just fine)
Recipe by
Created by Diane
at https://www.createdby-diane.com/2012/10/pumpkin-peanut-butter-oatmeal-dog-biscuits.html