Pumpkin Spice Bites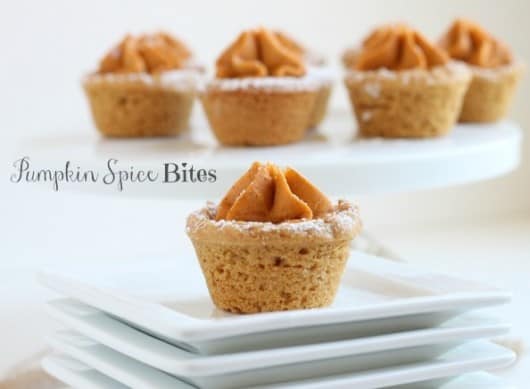 1 package pumpkin spice cookie mix + ingredients listed on package to prepare
1/4 cup flour
1 package pumpkin spice instant pudding mix
1 cup heavy cream
powdered sugar for dusting on top.
Mix pumpkin spice pudding mix with 1 cup heavy cream and whisk it until it's smooth, place in refrigerator so it will be thick and cold when you are finished baking the cookie bites.
Mix pumpkin spice cookie mix according to package directions and add in 1/4 cup flour to the mixture. This will make the dough a bit thicker so when they are baked they won't rise up too much and then sink when cooled.
Roll 1 teaspoons sized balls of cookie dough and place them into mini muffin pans sprayed with a baking spray so they won't stick.
Bake cookies for 10-12 minutes. Check with toothpick. Bake at 350, reduce the temp to 325 if using dark coated pans.
Let cool 5 minutes in pan, then remove the cookie bites from baking pan and cool completely.
Place filling into a piping bag fitted with a 1M tip and pipe filling onto cookie bites and dust with powdered sugar.
They will keep at room temperature for the day you baked them, otherwise refrigerate them until ready to eat, remove 30 minutes before serving so they will come to room temperature.