Asian Beef Short Ribs (Pressure Cooker Recipe)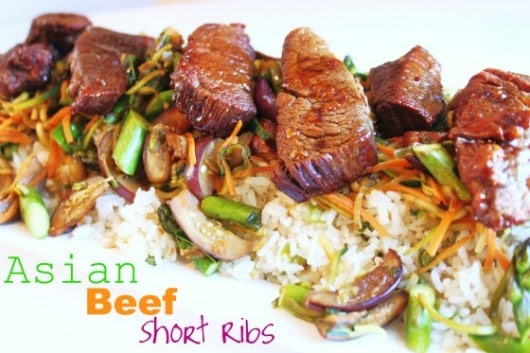 3 lbs boneless beef short ribs
1 cup soy sauce
1/4 cup rice wine vinegar
2 teaspoons lemongrass (Gourmet Garden)
1/4 teaspoon ginger (Gourmet Garden)
1/2 cup brown sugar
1/2 teaspoon crushed red pepper
1/4 cup orange juice
1 teaspoon corn starch
2 carrots julienned
2 zucchini julienned
2 cups mini eggplant (or I medium eggplant) cut into pieces
1 1/2 cups chopped asparagus
3 scallions diced
Place beef in a pressure cooker with 1 cup water and cook with pressure on High for 20 minutes.
Release pressure when finished.
Whisk soy sauce, vinegar, lemongrass, ginger, sugar, pepper, orange juice, and corn starch together and heat in a skillet.
Saute vegetables in a separate skillet with a tablespoon oil, cook on medium heat for 2 minutes.
Then place beef ribs into a sauce to coat them.
Serve over cooked rice with beef and vegetables on top and drizzle sauce on top.
Recipe by
Created by Diane
at https://www.createdby-diane.com/2012/09/asian-beef-short-ribs-pressure-cooker-recipe.html