Mint Chocolate Chip Meringue Cookies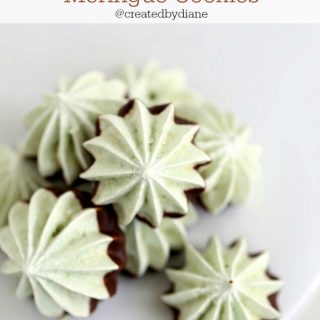 Author:
Diane Schmidt, Created by Diane
Recipe type:
dessert, cookies
4 large egg whites
1 cup sugar
1 Tablespoon meringue powder
4 Tablespoons Creme de Menthe (a peppermint option is to use up to1 teaspoon peppermint extract)
1/2 cup mini chocolate chips at the end.
In a double boiler, combine egg whites, sugar, and meringue powder. Whisk until sugar dissolves and egg whites are hot 3-4 minutes.
Transfer to mixing bowl, with the whisk attachment, mix on low speed increasing to high until stiff glossy peaks form, this takes about 10 minutes.
Stir in creme de menthe and chocolate chips, or bake without chips, then once they are baked and cooled, (then melt the chips and dip the bottoms of the cookies into chocolate and place them on a parchment lined baking sheet and place them in the fridge to set up for a few mintues).
Then piped with a 12 point open star tip (#32)
Bake on a parchment-lined baking sheet at 175 degrees for 1 ½ hours then turn off the oven and leave them in the oven for another hour or until dry.
Recipe by
Created by Diane
at https://www.createdby-diane.com/2011/03/mint-chocolate-chip-meringue-cookies.html