Perfect Funnel Cake at Home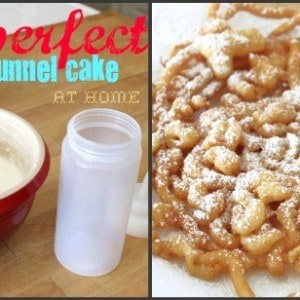 Author:
Diane Schmidt Created by Diane
1 cup Pancake Mix ( I used Krusteaz)
1 cup water
3-4 cups oil ( I used vegetable oil )
1/4 cup powdered sugar
Mix equal parts pancake mix and water.
Make sure there are no lumps, whisking it I find works well.
Place mix into a plastic squeeze bottle.
Cut the tip-off of the bottle so that a smooth and steady stream of the mix can easily come out.
Heat cast-iron skillet filled with about 2 inches of oil until it reaches 350 degrees. I use a thermometer, that way I can keep an eye on the temperature of the oil as often as I'd like.
Squirt the pancake mix into the hot oil.
Cook until golden on each side.
Drain on paper towel.
Dust with powdered sugar.
this recipe can be adjusted to make any amount of funnel cakes you'd like. Make them big or small to accommodate your needs.
Recipe by
Created by Diane
at https://www.createdby-diane.com/2012/08/perfect-funnel-cake-at-home.html