Raspberry Coconut Scones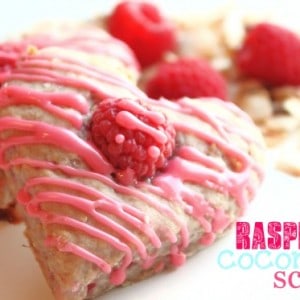 2 cups flour
¼ cup sugar
3 teaspoons baking powder
1 teaspoon salt
½ cup butter (cold)
2 cups fresh raspberries
½ cup heavy cream
1 teaspoon vanilla extract
½ teaspoon raspberry extract
½ cup lightly toasted coconut flakes
2 eggs
Raspberry Icing: Mix all ingredients until smooth.
1 cup powdered sugar
2-3 tablespoons water
1 tablespoon corn syrup
1 drop pink coloring
½ teaspoon raspberry extract
Mix together flour, sugar baking powder, and salt.
Cut in butter until mixture resembles coarse crumbs.
Add raspberries (reserving ½ raspberries for tops), heavy cream, extract, coconut, and 2 slightly beaten eggs.
Mix until blended.
Knead on a floured surface and cut into desired shapes.
It's sticky so add more flour as needed, so it's easy to work with.
Place raspberries ½ on tops of each scone.
Bake at 375 degrees for 15 to 20minutes.
Pipe raspberry icing when scones are cooled.