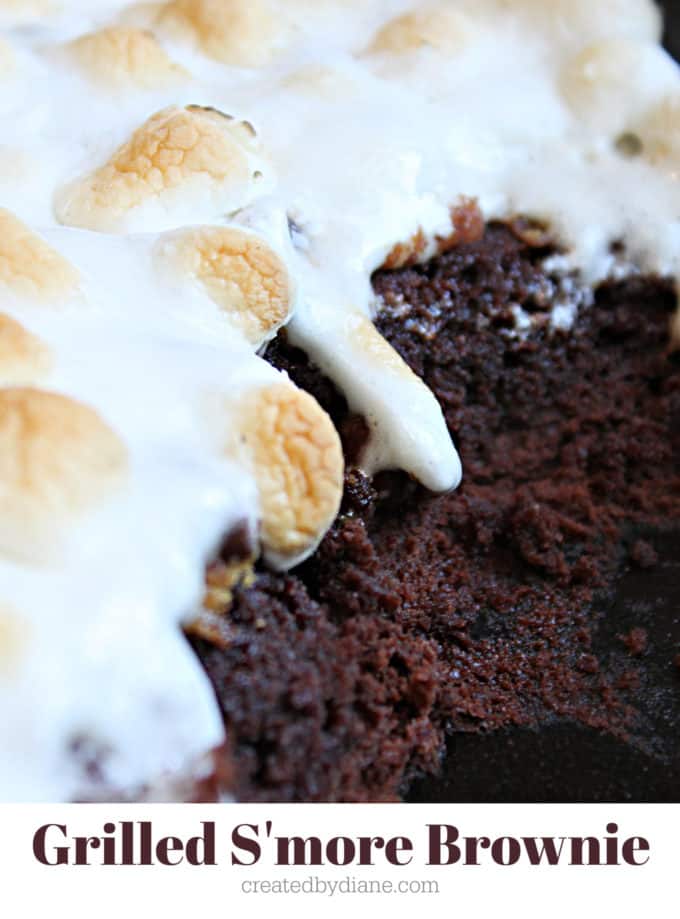 Brownie Mix ( I used Pillsbury) along with ingredients to prepare according to package
1/2 cup graham cracker crumbs
3/4 cup chocolate chip
1 1/2 cups mini marshmallows
Heat Grill to 325 degrees.
Oil 12" Cast iron skillet.
Prepare brownie mix according to package directions.
Pour mix into cast iron skillet.
Place graham cracker crumbs on top of brownie mix.
Place skillet on the grill and cook for 25-35 minutes at 300-325 degrees.
Test with toothpick, don't overcook but make sure it's at more than 1/2 way cooked.
Place chocolate chips on top, spread with an offset spatula to coat brownie evenly.
Place mini marshmallows on top, be sure not to overcrowd them, they will swell and puff up when heated.
Place skillet back on the grill for until marshmallows are lightly brown about 3-5 minutes.
The skillet will stay hot so the brownie will continue to cook. Place knife along the edge to test brownie without disturbing marshmallows.
This is best served, very warm.
Don't try to cut it into pieces, the marshmallows will pull off the top.
Scoop out with a large serving spoon, scoop out the serving and remove from serving spoon with another spoon or knife.