Sugar Cookie Recipe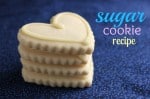 1 cup salted butter
1 ½ cups powdered sugar
1 egg
2 teaspoon vanilla extract or vanilla bean paste
2 3/4-3 cups all-purpose flour
2 teaspoons baking powder
1 teaspoon salt
Preheat oven to 400°
In the large bowl with a mixer, cream together butter and powdered sugar.
Mix in egg and vanilla.
Blend in flour, baking powder, and salt. (only add the additional 1/4 cup flour if needed, the dough should be supple and soft not dry)
Mix until the dough forms a ball.
Roll out on a floured surface and cut with a cookie cutter,
Bake at 400° for 7-9 minutes, until cookies are golden but tops are not browned yet.
Cool completely before icing.