Chicken Mozzarella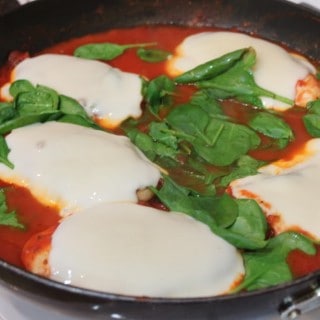 1 1/2 lbs boneless skinless chicken breasts (thin sliced if preferred)
1 1/2 cup tomato sauce (homemade or sauce with no sugar)
1/2 lb mozzarella cheese, sliced
1 cup or more fresh spinach
fresh basil leaves
Serve over pasta or zucchini noodles for a great low carb dinner.
Heat skillet, place chicken and cook over medium-high heat turn over then, add in the sauce.
Heat the chicken in sauce over medium until the chicken is fully cooked.
Top chicken with mozzarella cheese slices, then place a lid on top and melt cheese.
Top with fresh spinach.
Add basil and serve hot.