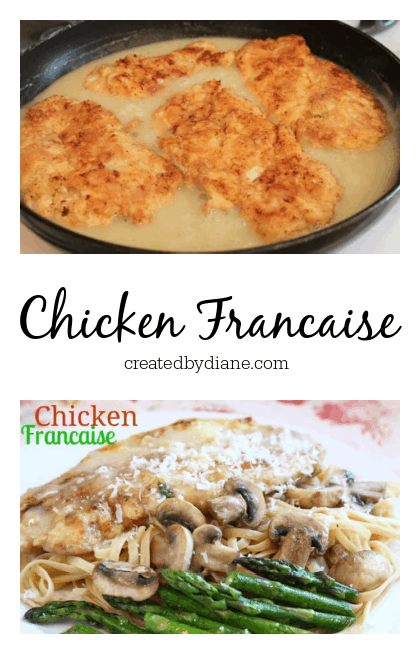 4 Boneless Skinless Chicken Breasts
1 cup+ 2 tablespoons Flour
1/2 teaspoon salt
1/4 teaspoon black pepper
3-4 eggs
4 tablespoons+ 2 tablespoons butter (Land O Lakes Olive Oil and butter with sea salt)
2 tablespoons fresh lemon juice
1/2 cup white wine
1 1/2 cups chicken stock
Pound chicken thin, it will cook quicker and the sauce will coat the chicken nicely.
Place flour salt and pepper in a shallow dish large enough to fit one piece of chicken at a time.
Place eggs in another similar-sized dish
Coat each chicken breast with flour then egg then dip it into the flour again.
Heat skillet add 2 tablespoons butter(the Land O Lakes butter with olive oil is perfect for this as no additional oil is needed-butter alone would burn)
*If you use regular butter add one tablespoon of oil to each tablespoon of butter.
Place chicken into heated skillet, cook chicken on medium, turning chicken to ensure even cooking.
If you need additional butter/oil add a tablespoon at a time
Remove chicken from the pan, if there are bits and pieces leave them in the pan, they will add a great taste to the sauce.
Add 2 tablespoons butter (that same yummy butter with olive oil and sea salt)
Add 2 tablespoons flour
whisk until smooth and the flour has absorbed butter, cook for a minute so the flour doesn't have a raw taste.
Add wine, lemon juice, and chicken broth.
Cook the sauce on medium-low until it boils, continue to stir the sauce.
Place chicken in the sauce then turn chicken over so it's all coated well coated.
Serve chicken over pasta with additional sauce poured over chicken and top with grated Romano Cheese.