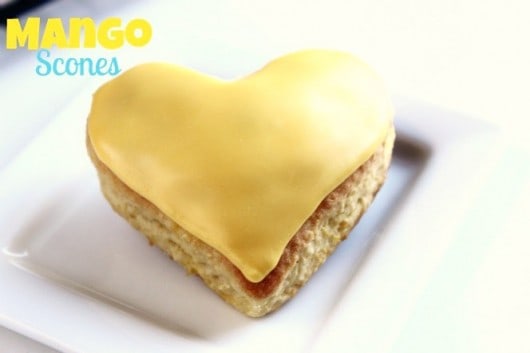 2 cups flour
1/4 cup sugar
3 teaspoons baking powder
1 teaspoon salt
1/2 cup butter (cold)
1 cup diced fresh mango
1/2 cup cream
1 teaspoon vanilla extract
2 tablespoon fresh lime juice
2 eggs
Mango Icing: Mix all ingredients until smooth.
1 cup sugar
2-3 tablespoons water
1 tablespoon corn syrup
1 drop Americolor Egg Yellow Coloring
6 drops Loranns Mango flavor
Mix together flour, sugar baking powder and salt.
Cut in butter until mixture resembles coarse crumbs.
Add mango,milk, extract, lime juice, and 2 slightly beaten eggs.
Mix until blended.
Knead on a floured surface and cut into desired shapes.
It's sticky so add more flour as needed, so it's easy to work with.
Bake at 375 degrees for 15 to 20minutes.
Pipe Mango Icing when scones are cooled.