Frozen Strawberry Margarita Pie with Pretzel Crust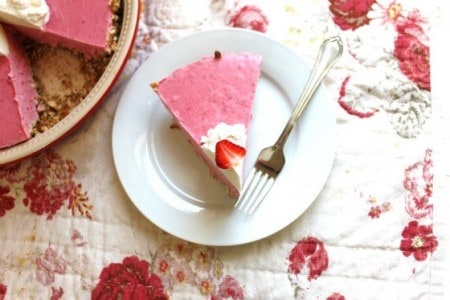 2 cups crushed pretzels
6 tablespoons butter, melted
2-8oz. packages cream cheese
1-14oz can sweetened condensed milk
24 strawberries (about 1 quart)
2 limes, juiced
1/4 cup tequila
Place crushed pretzels and butter in bowl together and mix well, press into pie dish and bake at 350 degrees for 10 minutes.
Cool pie crust completely.
Puree strawberries in food processor with lime juice. Add to it the tequila.
Beat room temperature cream cheese until smooth. Add sweetened. condensed milk, mix thoroughly. Mix in the strawberry mixture, blend thoroughly. Pour into pie crust and freeze for at least 6 hours.
*you can chill the baked crust in freezer to speed up this process.
*if you like it really sweet, you can add sugar to the cream cheese, about 1/2 cup or you can add 1/2 cup strawberry margarita mix in place of the lime juice, or in addition to it. I think the proportions will be fine.
* if you prefer a sweeter crust, add 1/4 cup sugar to the pretzel crust mixture. Brown sugar would be nice too.
*If the pretzel crust is too crumbly and won't hold together add a little more butter.
Recipe by
Created by Diane
at https://www.createdby-diane.com/2012/05/frozen-strawberry-margarita-pie.html