Margarita Cupcakes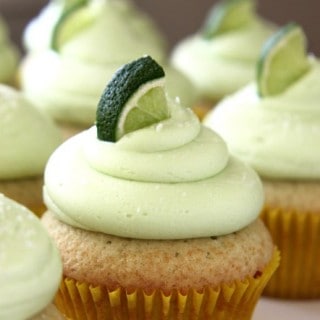 Margarita Cupcake Recipe
1/2 cup unsalted butter (room temperature)
2/3 cups sugar
3 eggs (room temperature)
1 1/2 cups flour
1 1/2 tsp. baking powder
1/2 tsp salt
Zest of two limes
1/4 cup fresh lime juice (I use the two limes I zested) you could substitute with ¼ cup margarita mix (the liquid prepared type)
(I've made these cupcakes both ways and they were equally delicious)
Beat the butter until pale, then add the sugar. Add one egg at a time, blend until all incorporated. Then add in flour baking powder and salt, followed by the lime juice or margarita mix. Then add the zest.
Fill lined cupcake pan with batter 2/3 full. Bake at 350 for 18 minutes.
Makes 12 cupcakes. This recipe easily doubles if needed.
Having your butter at room temperature helps it to beat smooth, and eggs at room temperature prevent the cake from becoming too dry. (You can easily place the eggs in their shell in warm water for 2 minutes or take them out of the refrigerator for 30 minutes)
**If you want to make Margarita cupcakes from a box cake mix, substitute the water for margarita mix, or lime juice and add lime zest.