glaze icing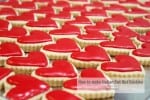 2 cups confectioners' (powdered) sugar
2 Tablespoons water
1 Tablespoon corn syrup
1 teaspoon vanilla extract
food coloring
In a small bowl mix together until smooth add more milk/water if too thick or confectioners' sugar if too thin.
Add food coloring and vanilla and mix well. I prefer Americolor food coloring.
When you pull up some icing on a spatula and drizzle it back into the bowl, the design should disappear in 10 seconds for the correct consistency.
Outline the cookie with a #2 tip and use a #3 tip to fill in the design.
Let icing set on decorated cookies before storing, this takes about 12 hours.
The cookies won't go stale, the icing is covering the tops preserving the freshness.
Add the water slowly to the powdered sugar, you may not need it all or you can add more if you want the icing thinner.