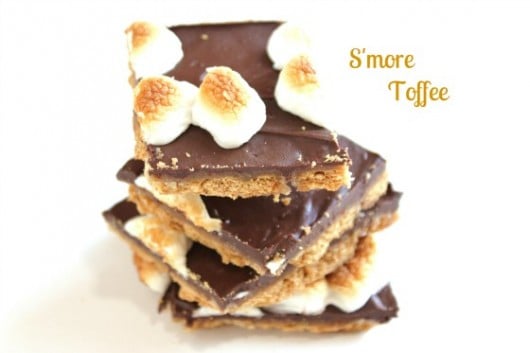 8 graham crackers
½ cup butter
½ cup brown sugar
1 cup mini chocolate chips
1 cup mini marshmallows
Preheat oven to 400 degrees
Line a ¼ sheet pan (13x9) with non-stick foil
line pan with graham crackers
Boil butter and sugar for three minutes in medium saucepan (this makes toffee)
Pour toffee over graham crackers,
bake for 8 minutes,
remove from oven ,place chocolate chips on warm toffee the heat will melt the chocolate, Spread chocolate with spatula evenly over graham crackers and toffee
Place marshmallows on top of chocolate and place under broiler for 1-2 minutes until they are toasted. Watch carefully, marshmallows burn easily.
Place pan in refrigerator for 30 minutes or until chocolate is chilled and firm.
The foil allows you to lift the toffee out of the pan so you can easily cut it on a cutting board.
*semi sweet mini chocolate chips firm up quickly for me in the refrigerator, and they melt quickly. Milk chocolate doesn't seem to get as firm, and sometimes stays soft. So I prefer semi-sweet or dark chocolate.